Races View Confirmed Entrants List
Full Marathon
Half Marathon
5k Run

Certified Course Date & Time
May 25, 2003
Flat scenic course measured and certified.
7:45 am - Full Marathon & Half Marathon
8:00 am - 5k Run

Prizes
Marathon & 1/2 Marathon
Open Men's & Women's: 1st place - Cash and Prizes
Master's Men's & Women's: 1st place - Prizes
Age Divisions Men's & Women's:
Medals for 1st, 2nd, 3rd place in each of the following age groups:
18 and under, 19 - 24, 25 - 29,30 - 34, 35 - 39, 40 - 44, 45 - 49,
50 - 54, 55 - 59, 60 - 64, 65+

5K Run
Open Men's & Women's: 1st - Medals
Master's Men's & Women's: 1st - Medals
Men's & Women's & Kids: 1st, 2nd, 3rd - Prizes for:
10 and under, 11 - 14, 15 - 19, 20 - 29, 30 - 39, 40 - 49, 50 - 59,
60 - 64, 65+

Race Kit Pickup
Thursday, May 22nd and Friday May 23th 11am-7pm
Burlington Running Room
Saturday, May 24th 10am-6pm
Lasalle Park
Sunday, May 25th 5am-7am
Race chip, kit, and registration available at Lasalle Park.


Pasta Party
Saturday, May 24th
Geraldos Lasalle Park $20 ($13 USD) per person. Two seatings, 5:00 pm and 7:00 pm.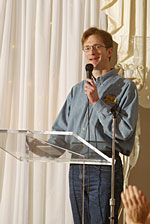 Guest Speakers
This year's guest speakers will be Joanne Shields and
John Stanton. Click here to learn more about them.

Friendship Run with John Stanton
The Friendship Run, a 5K fun run, will be held at the Burlington Running Room on Saturday morning, 9:00 am. There is no sign up for this event, it's open to everyone.
Parking
Parking will be available at the the GO Transit Bus Station on Waterdown Rd.
Driving Directions
Click here for directions to the race site.
Facilities
There is baggage check and 15 porta potties at the park. Washrooms are under the pavilion at the park.There will be a wading pool at the park with showers open from 9:00am on and massages available after the races.
There will be six water/gatorade stations spaced evenly along the entire course in addition to four porta potty locations.
There are 2 Medical Aid stations on the route as well as bike paramedics, marshals, radio club officials and police along the route.
Course is marked by kilometre marking every k and the first mile is marked and there is a clock at the halfway point of the marathon route.
Accommodations
Travel Lodge Hotel Burlington on the Lake

On the shore of Lake Ontario in the heart of beautiful downtown Burlington, this full service hotel offers a variety of dining, shops, boutiques and entertainment, all within steps of the hotel. Guests enjoy jogging the Waterfront Trail, strolling the lakeside Boardwalk, and relaxing in Spencer Smith Park, all adjoining the hotel. Nearby attractions include Royal Botanical Gardens, Burlington Art Centre, and numerous world-class Golf Courses. Downtown Toronto and Niagara Casinos are less than a 40-minute drive.

Website:Travel Lodge Hotel - Burlington on the Lake
Email: travelodge@look.ca
Tel: 905-681-0762
Fax: 905-634-4398